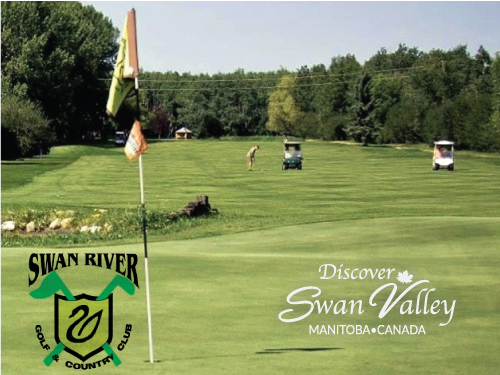 Swan River Golf & Country Club
Swan River Golf & Country Club was established in 1934, and is located two miles west of the Town of Swan River. The course has undergone major renovations in the past 20 years and now ranks as one of the most scenic and well maintained courses in Manitoba.
Download our brochure
A Hole in #1
The signature hole is the third, measuring 413 yards. Water and bunkers guard the left and trees the right, which makes a straight drive a must. When you accomplish that, you have a severely sloped green from back to front guarded by bunkers front & right. (Good Luck). The most challenging hole on the course has been the par 4 – fourteenth hole at 443 yards. The greens are large and receptive to the average player. Fairways are well contoured and several holes require an accurate tee-shot. A great course to challenge the better player and also provides an opportunity for the new golfer to enjoy some success.
Friendly staff provide service to support a memorable golf experience.
The clubhouse, with a licensed restaurant and pro- shop, is open from 7:00am to 11 :00pm. Rental carts (pull and gas) and rental clubs are available. A beverage and snack cart runs daily.
To book tee times or for more information please phone
204-734-393S or book online at swanrivergolf.com