Blue lakes Hiking Trail - West Blue Lake
Duck Mountain & Porcupine Forest Adventures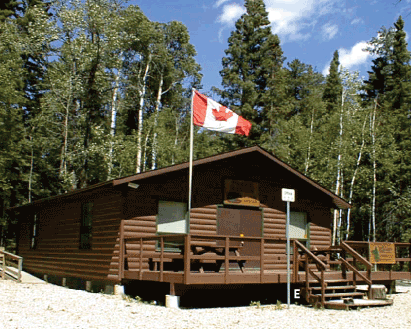 Duck Mountain Forest Centre
Experience nature's beauty, exercise or learn about the boreal ecosystem at the Duck Mountain Forest Centre. During the winter months enjoy snowshoeing or 6km of groomed cross-country ski trails with a warm up shelter along the way. In the summer months hike or cycle various different trails totalling 8km with a look out tower and many opportunities for wildlife viewing. On site is the Frank Marvin Visitor Centre, multipurpose 40'x80′ steel building, picnic area, all season washrooms, and a new Trapper's Museum to be built in 2019.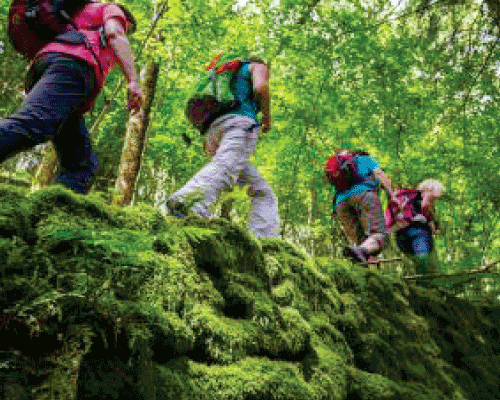 Porcupine Provincial Forest
Where the Parkland gives way to the north, Porcupine Provincial Forest is a rugged wilderness waiting to be explored. Few roads penetrate the forest, set among the Porcupine Hills along the Manitoba escarpment, which rises to 823 m (2,700 feet) above sea level at Hart Mountain, a summit to rival Baldy Mountain of The Ducks. Campgrounds exist at Whitefish Lake (on PR 279, northwest of Bowsman), North Steeprock Lake and Bell Lake (both northwest of Birch River on PR 365).
Popular Hiking Trips
Duck Mountain Provincial Park
The Duck Mountains are a segment of the Manitoba Escarpment dating back over
one hundred million years and are classified as a Natural Park. Clear, spring-fed lakes have made "The Ducks" a popular tourist destination for years. Childs, Wellman, Glad, Singush and the Blue Lakes are among the most popular. The shapes of landforms, and bodies of water are the work from the last Ice Age and glacial
Lake Agassiz's melt waters from 12,000 years ago. This boreal forest consists of an extensive plant life ground cover and a mixture of trees. Signs identify the many species of native trees and the site is home to a great variety of birds, waterfowl, and animals. The highest point in Manitoba is Baldy Mountain located in the Duck Mountains, reaching 2,727 ft. Visit the two scenic outlooks Baldy Mountain which has an observation tower and picnic site or Copernicus Hill to look out over the observation deck and monument.
Campground Facilities exist at all of the park's major lakes. Duck Mountain Forest Site, located near the junction of PR 366 and PR 367, also makes a good station from which to explore the surrounding area. In the winter, take advantage of their groomed cross country ski trails and warm-up shacks.
Upload Image...
Wellman Lake Lodge Fishing & Vacation Lodge
Wellman Lake Lodge is a hunting, fishing, & vacation lodge located in the rugged, forested elevations of the northern portion of Duck Mountain Provincial Park.

Wellman Lake RV Park offers eight RV sites with four pull throughs. Each site comes complete with hydro, water, sewer hook-ups, decks and fire pits. We also offer a variety of cabin rentals and great activities in both summer and winter seasons. Looking for a relaxing afternoon? Unwind with a boat ride or fishing trip on our serene lake and catch an array of trout, bass, char and pike.
If you are longing for the thrill of an adventure, look no further! Discover the abundance of wildlife in the forest and when the winter sets in you will see cross-country skiing, snowmobiling and ice fishing around every turn.
Visit Us on Facebook